INTERVIEW OF DR. CLIFF HANES
VICE-CHAIR OF THE CAPAZ ADVISORY TEAM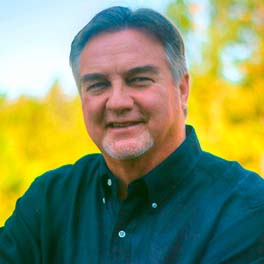 How did you come to know Christ?
My family were members of the Vancouver, WA Foursquare church .  When  I was four years old, the Sunday School teacher put up a picture of Jesus knocking on door and she asked if there was anyone who would like to open up their heart and allow Jesus to come in.  I shot my hand up and received Jesus as my Lord and Savior. I can still remember that moment as if it was yesterday.  This is the reason I have always valued Christian educators and youth leaders so highly.
Where did you grow up?
I grew up in a home with five kids. My dad was a tile-setter, a kind, humble man who secretly was dyslexic.  Sometimes he would work as much as seven days a week to keep a roof over our heads and food on the table. We lived in a working class world  with lots of love, and never had much money.  However church and sports were very important things so I excelled at school and I played all the sports I could:  basketball, baseball and especially football.
What kind of higher education did you pursue?
I knew that I wanted to go to LIFE Bible College (now LIFE Pacific)  so there was never a question in my mind. I made that decision at our wonderful youth camp when I was 16.  The college had an incredible faculty of theologians and experienced leaders.   I worked at UPS to pay my way through school so it took me five years to finish the four year  Bachelor of Theology program.
Anyone play a key role in your life after you went into ministry?
Right after graduation,  Pastor Jack Hayford asked me to join the pastoral staff of The Church On The Way .  Pastor Jack had such  a great understanding of spiritual warfare and it really strengthened me for the ministry .  I understood the lovingkindness of God's love,  but  Jack taught me how to be a contender as it relates to challenging the works of darkness that try to impede God's plans in and through us. I don't think I would have survived to pastor 3 growing congregations had I not learned from Jack how to discern the spiritual battles around us and address them through prayer, fasting and worship.
I also benefited from my close friendship with Roy Hicks Jr and Ron Mehl.
What have you enjoyed the most working with the CAPAZ team?
I like the fact that we value long-term relationships. I have gained so much from the networks that that are in my life and CAPAZ is one of those networks. I like the focus on Biblical  and spiritual relationships as a key to mission building.
Also, with our dialogue approach to  learning, we have tried to stay current with the latest trends in continuing adult education and missional discipleship.
How have the multiple trips to Panama with Pastors that we have conducted impacted your You life and the lives of pastors on those trips?
Pastors today are often on a  treadmill that is almost twenty-four hours/seven-days per week due to social media. These Panama visioning tours,  as we call them,  take  pastors out of their normal routine and allows them to hear from God and be used of God to speak in a different setting into our leaders lives and the lives of their congregations. There is something about getting out of your daily routine and into  a missions context,  with like-minded leaders from a different culture.  It  that allows them  to hear from the Lord in a clearer and refreshing  way.
What are your feelings about short-term missions trips?
All of the Twelve disciples of Jesus, and then the seventy,  went all over their world.   Sometimes they stayed for only a few weeks before they moved on, but their impact in each place was lasting.  The pure gospel includes all of us being willing to move into new situations with the Good News all of the time…Matthew 28:18,19.
Any thoughts about our emphasis in CAPAZ of training local leaders in developing nations?
It's really a two-way street. It opens all the participants  up to outside voices,  to encourage and to confirm the work of the Spirit in their lives and ministries. Beyond the training sessions, the conversations that occur afterwards or over a meal allow for a cross-pollination. We learn from them as they learn from us. It is a very rich experience.  We also see that, whatever culture we are in, we often face the same ministry issues.  We see that we are not alone.
As a pastor you're always looking for something fresh from the Holy Spirit to feed your flock. It could be a familiar verse or portion
of Scripture, but hearing how someone else has applied that to their life or the challenges that their people face is like seeing something in black and white and then all of a sudden it has color.
What was it like being a Foursquare district supervisor in the Northwest?
When I was Pastor of  Living Water in Olympia, and later Westside Church in Bend, Oregon, we were experiencing the overlap of two major moves of God: the Charismatic movement that began  on the West Coast  in Van Nuys with Dennis Bennett at Saint Mark's Episcipal church in 1962,  and the Jesus movement which started with pastors like  Chuck Smith at Calvary Chapel in the early 60's lasting into the end of the 70's.
As those churches were growing, we  had mainline people like Lutherans and Presbyrterians with a lot of theology looking for a sanctified emotional experience with the Lord. And they found it through receiving the Baptism of the Spirit!  I was  pretty young when I was appointed to be a District Supervisor by then ICFG President, Dr Rolf McPherson.  I  knew that District growth would depend on the continuing work of the Spirit of the Lord.
What did like most, pastoring a local church or being a district supervisor.
Both of those positions were very fulfilling, and very challenging.  As a supervisor I was blessed to have more resources , and I decided to allocate most of those resources toward church planting. We planted on average thirty churches per year in the eight states of the Northwest District during my tenure in that role.
However I would mention that at Living Water (Olympia, WA) and Westside (Bend, OR) we saw revival growth at both places. Our last senior pastor experience was at East Bay Fellowship in Danville, CA.  All of these congregations have been sending churches, not just for young pastors but also for overseas missionaries.
What were the overall results with your church planting work from the district?
We started with 227 churches,  and when I left that position (to serve in missions) we had grown to  359 churches in  five years.
What was your experience with Foursquare Missions?
Mari and I served for three years overseeing the US efforts in Northern Europe while based in England.   When Dr. Paul Risser was elected Foursquare President, he asked us to move to Los Angeles to be his Vice President.  My first assignment was to continue to encourage church growth in the U.S. , but also I was sent to many different nations to meet with our leaders around the world.    Later, the following  President of Foursquare, Jack Hayford,  asked me to serve with Mari in the role of  Assistant Vice President of US Missions for ICFG. I continued to be thankful for the opportunity to continue to get to be with our brothers and sisters in other nations.
Later, we moved back to Oregon when asked to oversee the Cascade District. Currently we continue to lead mission teams and conferences in Africa, especially in Uganda where we helped establish a large orphanage and school and medical clinic.

Where did you and Mari meet? How long have you been married. How many grandchildren do you have? Any interesting grandchildren stories?
We met at Camp Crestview when we were both working there as teenagers. We are proof that camp romances can last !  We are celebrating our 49 th anniversary.   We have four grown children and five grandchildren, ages 17 years  to 7 months.
A special thing has happened in that Mari has always had a vision for Ethiopia and traveled there several times.  Our youngest son married a lovely woman from Ethiopia, and now we have a little Ethiopian granddaughter.
SUBSCRIBE TO NEWSLETTER
Sign up with your email address to receive news and video healing blog updates.